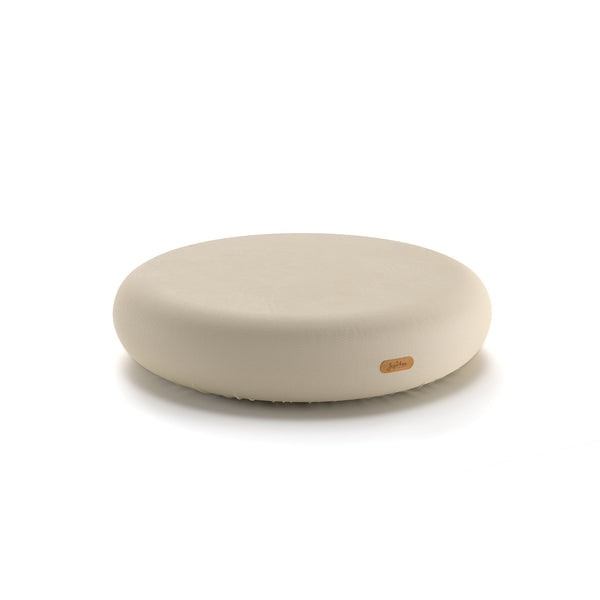 The Jupiduu Jumpspot combines safe indoor bouncing fun for children and design in an unprecedented way. Whether in the children's room or in the living area - the Jumpspot fits seamlessly into any environment.

With its innovative "Drop Stitch" technology, the Jumpspot has excellent jumping characteristics. In addition, thanks to the stable air chamber, you can variably adjust the bounce. Due to the low height of only 20cm, safety is always guaranteed during play, especially for smaller children. With a diameter of 100cm, the Jumpspot fits compactly and stylishly into any living room or children's room.

Bouncing playfully trains coordination and sense of balance and strengthens your child's muscles.

And if your little ones need a short break, the Jumpspot is also popular as a little chill-out area where they can make themselves comfortable with a good book. There are countless other play possibilities, the imagination knows no bounds!

There are 5 fashionable colours to choose from (dark beige, light blue, pink, camel and olive).
The covered waffle knit jersey is made of 100% cotton (OEKO-TEX Standard 100 certified) and can easily be washed in the washing machine.

Other important notes:

The Jumpspot consists of an inflatable air core and a waffle knit jersey cover. Load capacity up to 100 kg, so daddy can get on it too;-)

An adapter is included in the delivery. With this adapter, the Jumpspot can be inflated with a hand compressor (option A) or a bicycle pump (option B). Without the adapter, the Jumpspot can be inflated with a commercially available air pump, provided the hose diameter is 20 mm. The recommended air pressure is 0.25 BAR / 3,6 PSI.
Use only under direct adult supervision. For domestic use only.

Please make sure that there are no objects around the Jumpspot within a radius of 1.5m.

Age recommendation: From 18 months

Delivery without pump, but with adapter